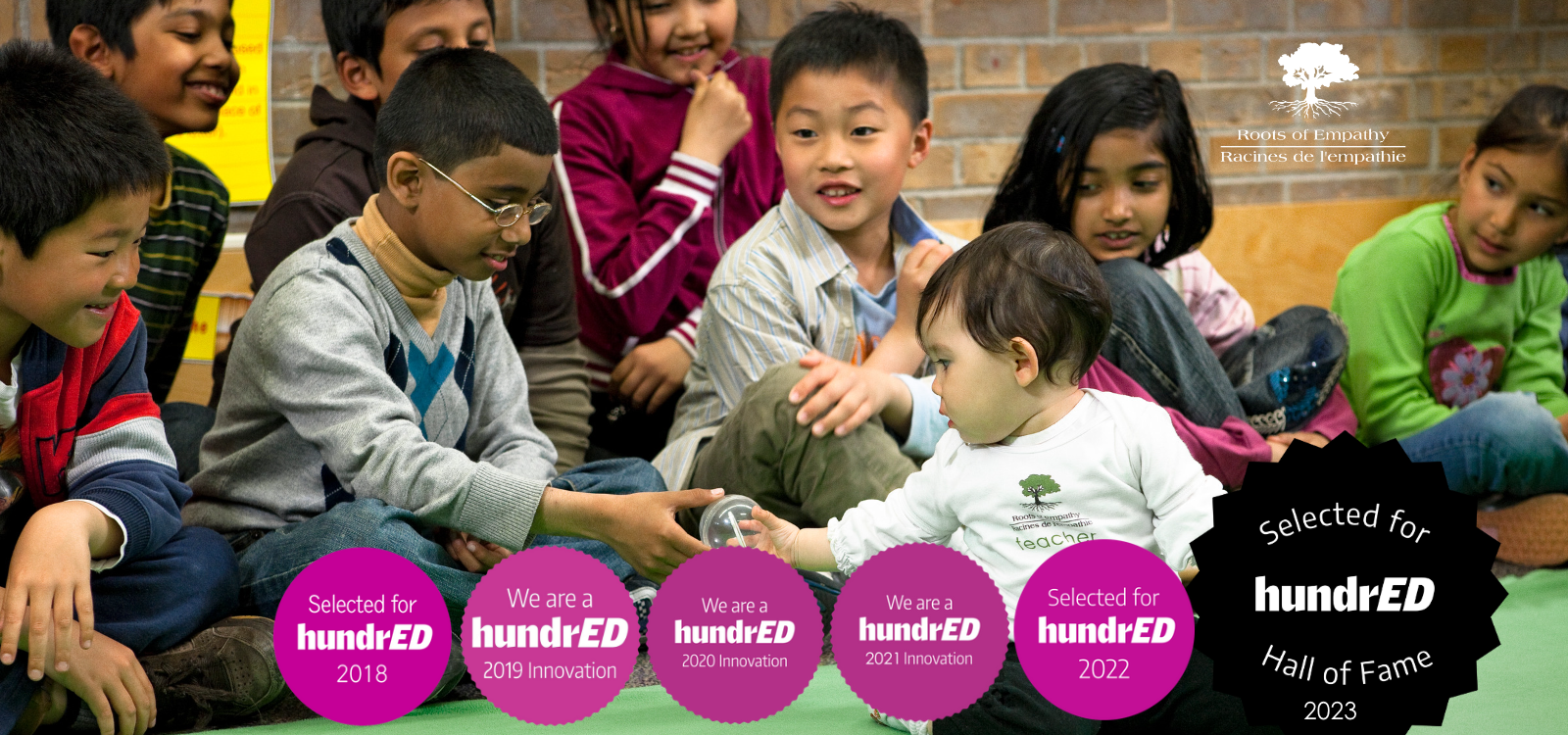 Helping children develop the empathy they need for mental health, well-being, learning, and relating to others.
HundrED is a Finland-based education NGO that discovers, researches and shares inspiring innovations in K-12 education annually. Their goal is to help improve education and foster a movement through encouraging impactful and scalable innovations to spread across the world.
In 2023, Roots of Empathy was inducted into the HundrED 'Hall of Fame' for education innovation as part of their 2023 announcements. For the previous 5 years in a row (2018-2022), Roots of Empathy was honoured to be selected from thousands of submissions from around the world as one of HundrED's most inspiring global education innovations. We were thrilled when that success translated into being one of only 4 global innovators inducted to be a permanent part of their Hall of Fame for 2023.
Roots of Empathy (ROE) is known as one of the earliest and clearest voices in the empathy dialogue. ROE, its flagship program for elementary school children, has reached over 1 million children on four continents in multiple languages and is proven by 2 decades of independent research to reduce aggression/bullying and increase prosocial behaviour. Seeds of Empathy is offered to children in early learning and childcare sites.
Roots of Empathy (ROE) continues to innovate for children who are 100% of our future and are the most vulnerable in times of change and chaos. Emotion regulation is a precursor to learning that will help close the learning gap caused by the pandemic. ROE provides support to students and teachers as we raise the bar on what it means to be human – to be empathic.
Empathy is a pathway to better relationships in childhood that builds resilience, happiness and progress towards a more civil society. 20 years of research shows that ROE programs are effective. ROE centres around the novel concept of having a baby become the "teacher" in a classroom. A certified ROE Instructor coaches the students to observe the baby's intentions, label the baby's feelings, and witness the baby-parent attachment relationship. The baby is a catalyst to help children identify and reflect on their own feelings and the feelings of others – empathy. ROE has been recognized as part of HundrED's innovations in education since 2018.
"As important as it is to learn to read in school, if children do not also learn to relate, we will have failed societies." – Mary Gordon, Founder/President